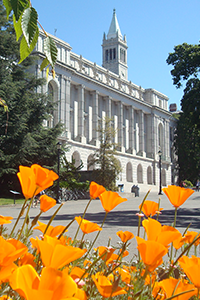 A Summer Getaway and a Way to Get Ahead.
About 5,000 of the 16,000 Summer Sessions students are visitors. We welcome you as you come from across the U.S. and around the world to share your knowledge, culture, and viewpoints.
Whether you are on campus or taking remote courses, visiting students can be part of the UC Berkeley community.
Students on campus can experience the SF Bay Area and all it has to offer. The culture, dining, and outdoor recreation that the region is renowned for is at your fingertips while you continue your learning.
Remote students will be able to take advantage of staff-led workshops focused on wellness, student success, and career development through a student-centered portal called the CubHub. Workshops will cover topics such as self-care tips, accessing the Tang Center, utilizing technology for successful learning, and working with the Career Center.
There are no out-of-state charges; only international students pay additional registration fees. If you are an international student currently studying at another US institution, you are still considered an international visiting student.
Take advantage of summer's open enrollment policy, and be part of UC Berkeley this summer.