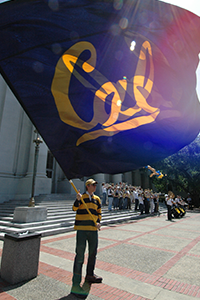 Get a head start.
Berkeley Summer Sessions offers two specially designed programs for students admitted to UC Berkeley for fall:
Both programs give incoming students a chance to get a head start on classes, get to know the campus and facilities, and connect with peers. If accepted for Fall admission, students are eligible to opt into the corresponding Edge program via their CalCentral notifications once they accept their offer of admission. Admitted UC Berkeley students do not need to submit a Summer Sessions application.
Exploring the Liberal Arts is a 2-unit online course for newly admitted freshmen, particularly those who are excited to be at UC Berkeley but are uncertain of where to start their explorations. Taking L&SW1 in the summer will give you the best possible start on your education, and help you make the most of your four years at Berkeley.
At UC Berkeley, you are encouraged to develop your passions through discovery projects that deepen your learning, better the world, and launch your future. This 2-unit online course is designed to help incoming freshmen start this journey.