Your summer study will be complemented by the historically rich and culturally vibrant resources of the Bay area.
Berkeley Summer Sessions offers many opportunities to explore outside the classroom. On campus itself, you can keep in shape at the Recreational Sports Facility (RSF) at a reduced cost; Zellerbach Hall and the Playhouse offer theater and dance performances; the Greek Theatre is a beautiful outdoor amphitheater for concerts; and the Lawrence Hall of Science, UC Botanical Gardens, and on-campus museums are wonderful places to spend an afternoon.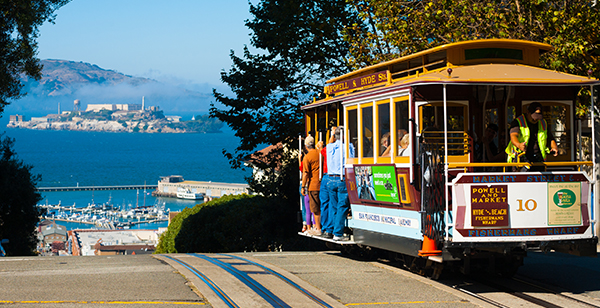 The San Francisco Bay Area boasts a wealth of things to do off campus as well. Here's just ten of the many things you shouldn't miss when you come to Berkeley this summer:
1. Cable cars—an icon of San Francisco. Take the Powell-Hyde line over Nob Hill to Fisherman's Wharf.
2. Berkeley-Oakland hills regional parks—a series of stunning regional parks line the ridge tops of the East Bay hills, perfect for day hikes.
3. Golden Gate Bridge—walk across the world-famous bridge that you can see from the Berkeley campus.
4. Wine Country—take a day trip to the celebrated wine country of northern California, where nearly 90% of American wine is produced.
5. North Beach—stroll streets that were home to the beatnik poets of San Francisco. Sip coffee at a sidewalk cafe, eat Italian food, browse world-class bookstores, and climb Coit Tower.
6. Berkeley Arts District—immerse yourself in a hub of live theater and music right next to campus.
7. Santa Cruz Beach Boardwalk—ride a roller coaster at an oceanfront amusement park on the Monterey Bay. It's just an hour and a half drive south of Berkeley.
8. Nightlife—The East Bay (Berkeley-Oakland) and San Francisco are home to hundreds of music and dance clubs, featuring jazz, salsa, Big Band, blues, and more.
9. UC Berkeley Art Museum—wander through 11 exhibition galleries, a sculpture garden, bookstore, and a café.
10. Yosemite National Park—a four-hour drive from Berkeley, and worth every minute.
---
---